Infokiosks as interactive information points used in the majority of service points and public venues. Almost everybody has seen them in one plate or another, and many have used them to save the time while queuing at a bank, store or office. Thanks to their versatility, infokiosks have settled permanently in our surroundings. They can be used in an infinite number of ways. Infokiosks have been successfully used in a wide range of applications, both indoors and outdoors. Before going into technical details, we should first define what an infokiosk is and what its distinctive features are.
Characteristics of infokiosk
By approaching an infokiosk, users can find most of the necessary information they need. All devices of this type consist of a control unit and the main display. Infokiosks provide users with access to information directly related to a given place or facility where the infokiosks are located. With an infokiosk, you can not only search for information and get an answer to your question, but also buy things. Each device can be freely configured and equipped with additional devices, such as a fiscal printer, ticket machine, coin acceptor, barcode scanner and many others, depending on the intended use. However, infokiosks are not merely a computer, main display and peripheral devices. The high usability and durability of infokiosks can also be attributed to the materials they are made of. Outdoor and indoor infokiosks are made of solid and durable materials that can withstand harsh weather conditions, and are also resistant to acts of vandalism and damage. They are resistant to temperature drops and surges, may it rain or snow. They can operate 24 hours a day, 7 days a week. Infokiosks intended for outdoor use can be additionally equipped with a canopy or a roof to make their use in unfavorable weather conditions as convenient as possible. They can also be made accessible by people with disabilities and people on wheelchairs. The height of the infokiosk body is freely configurable; the device can also be equipped with a lowered display to make it comfortable for use by people with different heights. In addition to the listed additional equipment, infokiosks can also have a headphone jack, and can also be connected to speakers and a keyboard. Their operating environment and software can be rendered in Polish, or translated into any foreign language. It all depends on the configuration and intended use.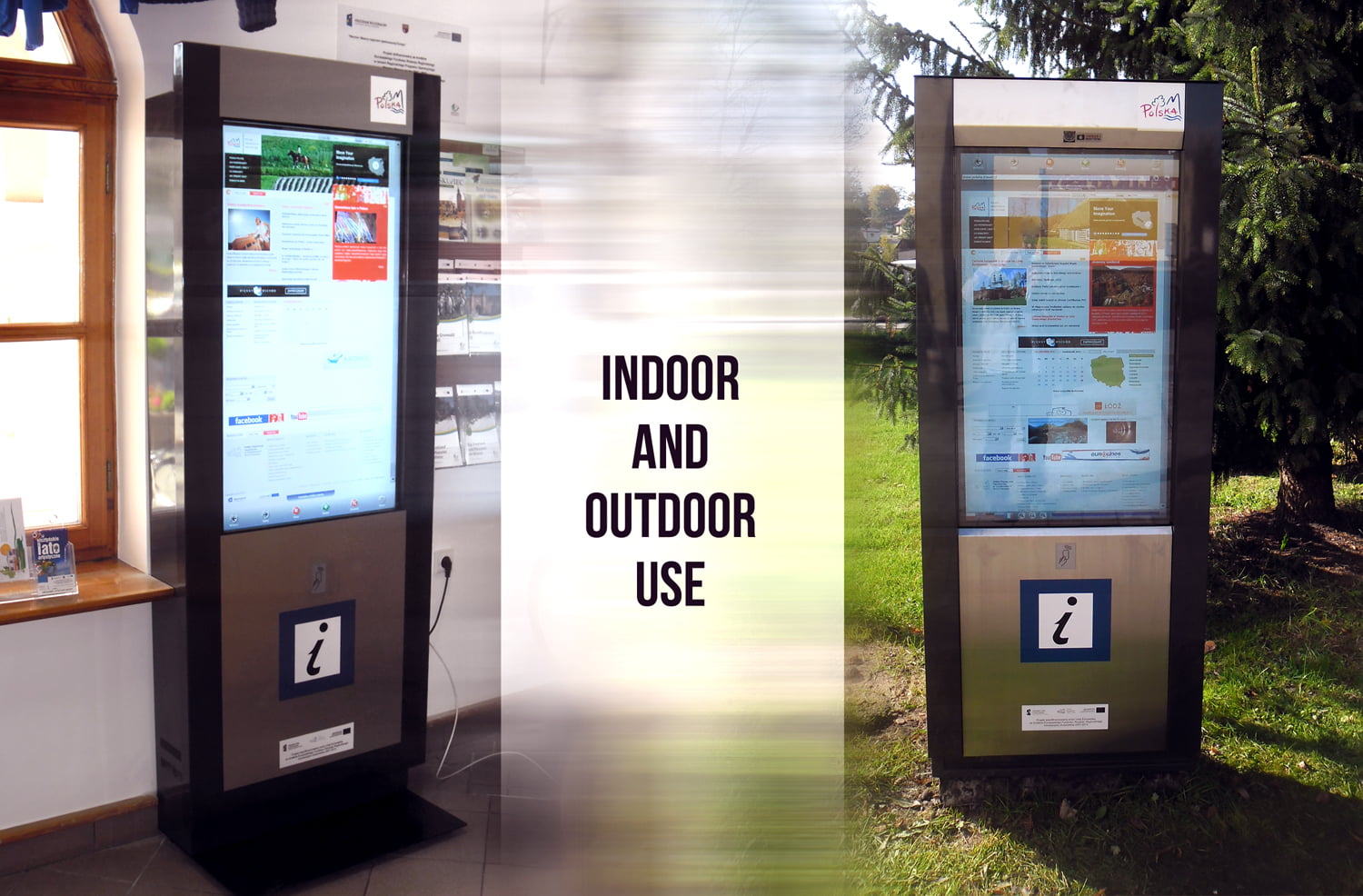 Where are infokiosks most useful?
Infokiosks are particularly well suited for public institutions, such as healthcare centers, police or fire brigades. They have also proved themselves useful in municipal, provincial and state offices, schools, universities and public libraries. And in many other settings. Infokiosks can also be placed all non-public institutions, such as theaters, cinemas and social welfare centers. Interactive kiosks are perfect for private businesses, such as banks, shopping centers, all types of shops, both small and large. They can provide access to useful information about the operation of a facility, they can be used to fill in a form or a questionnaire. Infokiosks are also used at railway and bus stations and airports to make it easier for passengers to check the opening hours, the timetable, and to buy tickets without having to queue. The applications of infokiosks are virtually limitless. Wherever it is necessary to deliver customer service and provide information, infokiosks are the ultimate solution. Infokiosks reduce queuing, e.g. people no longer have to queue to obtain information, which speeds up customer service.
In addition to indoor kiosks, we also offer a wide range of devices for outdoor uses. Outdoor infokiosks can be used as tourist information points. They are usually deployed in landmark locations and crowded places and provide access to information about the places and monuments that are worth visiting and seeing, as well as routes that can be used to see natural and cultural areas of unique value. Infokiosks usually display maps featuring tourist attractions. Interactive maps are already slowly replacing the use of traditional printed maps.
For example, infokiosks are used at McDonald's restaurants – you can choose menu, place an order and pay for it without having to approach the restaurant staff. It is a quick, simple way to order food without interacting with anybody.
However, infokiosks are most commonly found in shopping malls, where they are used as a useful source of information with a map of stores arranged into different categories and floors. Deployed in strategic points of the shopping mall, i.e. at the entrance and the main hall, they become an indispensable element of contemporary shopping centers.
Can anyone operate these devices?
Infokiosks, despite their technological applications, have an extremely simple and easy-to-use touch overlay that can be operated by people who are not experts in the state-of-the-art technologies. Simplicity lies in its intuitive software with which information can be retrieved in a fast and simple way. We guarantee consumer ease of use and maximum functionality. As a producer, we do not have to worry that users will cause any malfunctions because the devices are equipped with additional software to protect the browser and prevent users from unauthorized tampering with the device or using it for purposes other than intended.
What are the areas in business that we can improve thanks to kiosks?
The benefits of infokiosks: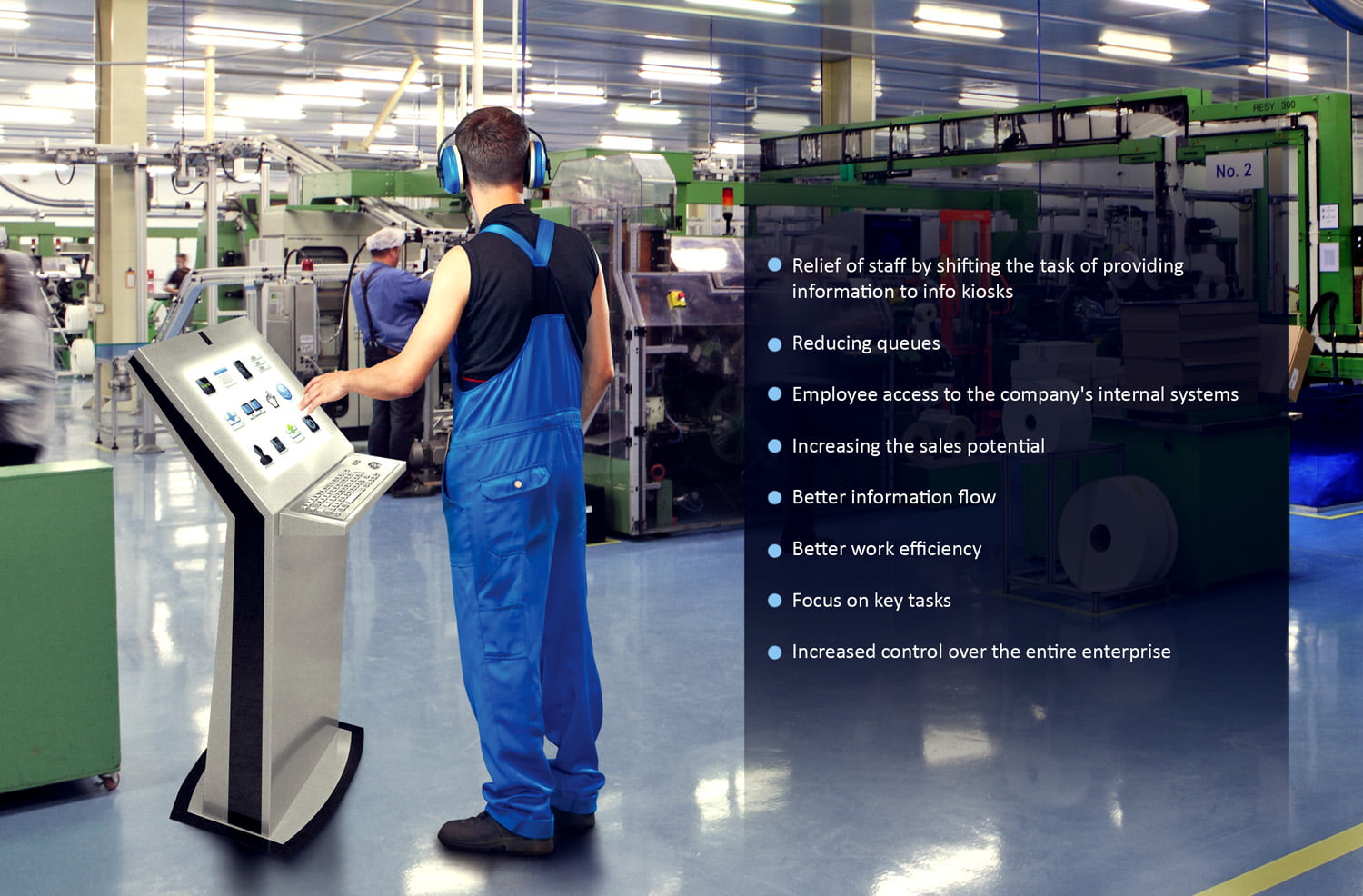 Apart from the obvious applications channeled to people looking for information (clients, contractors, tourists, patients), infokiosks can also successfully improve internal workflows. In order to reduce the workload of the HR department, infokiosks deployed in several strategic points in the company will help employees quickly and easily deal with the most important organizational matters or obtain important information. For example, infokiosks can be used to disseminate important corporate information, latest updates about current events, send notifications about the weather, name day, calendar or the time. In addition to general information, employees can also use infokiosks to submit a leave request, check additional important information about an employment contract (i.e. number of days off), complete a company questionnaire, and even suggest ideas for improvements within the company. In addition, infokiosks can support the production department to check inventory levels, net prices of semi-finished products, quantities of products and devices produced during a shift. Information helps streamline work. Infokiosks can be used as a source of such information and can also be used for advertising purposes.
Interactive kiosks are apparently still in their heyday. They fit perfectly into the solutions of the future. They are so versatile that they prove helpful in many industries. We believe that more and more companies and institutions will choose this innovative solution to orchestrate their operations.